Author Jane Austen is going to feature on a new Bank of England £10 note.
She is famous for writing books such as 'Pride and Prejudice' and 'Sense and Sensibility'.
The note will not be available until 2017.
The Bank of England says it regularly changes the people on its banknotes to stop them from getting worn out, and to stop people trying to make fakes.
J
ane Austen was born on December 16, 1775, in Steventon, Hampshire, England. While not widely known in her own time, Austen's comic novels of love among the landed gentry gained popularity after 1869, and her reputation skyrocketed in the 20th century. Her novels, including
Pride and Prejudice
and
Sense and Sensibility
, are considered literary classics, bridging the gap between romance and realism.
Early Life
The seventh child and second daughter of Cassandra and George Austen, Jane Austen was born on December 16, 1775, in Steventon, Hampshire, England. Jane's parents were well-respected community members. Her father served as the Oxford-educated rector for a nearby Anglican parish. The family was close and the children grew up in an environment that stressed learning and creative thinking. When Jane was young, she and her siblings were encouraged to read from their father's extensive library. The children also authored and put on plays and charades.
Over the span of her life, Jane would become especially close to her father and older sister, Cassandra. Indeed, she and Cassandra would one day collaborate on a published work.
In order to acquire a more formal education, Jane and Cassandra were sent to boarding schools during Jane's pre-adolescence. During this time, Jane and her sister caught typhus, with Jane nearly succumbing to the illness. After a short period of formal education cut short by financial constraints, they returned home and lived with the family from that time forward.
Literary Works
Ever fascinated by the world of stories, Jane began to write in bound notebooks. In the 1790s, during her adolescence, she started to craft her own novels and wrote Love and Freindship [sic], a parody of romantic fiction organized as a series of love letters. Using that framework, she unveiled her wit and dislike of sensibility, or romantic hysteria, a distinct perspective that would eventually characterize much of her later writing. The next year she wrote The History of England..., a 34-page parody of historical writing that included illustrations drawn by Cassandra. These notebooks, encompassing the novels as well as short stories, poems and plays, are now referred to as Jane's Juvenilia.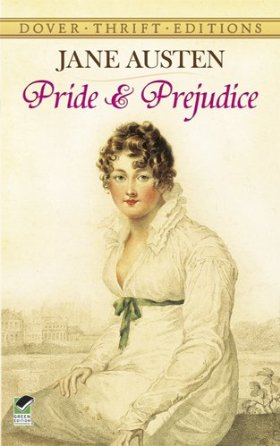 Jane spent much of her early adulthood helping run the family home, playing piano, attending church, and socializing with neighbors. Her nights and weekends often involved cotillions, and as a result, she became an accomplished dancer. On other evenings, she would choose a novel from the shelf and read it aloud to her family, occasionally one she had written herself. She continued to write, developing her style in more ambitious works such as
Lady Susan
, another epistolary story about a manipulative woman who uses her sexuality, intelligence and charm to have her way with others. Jane also started to write some of her future major works, the first called
Elinor and Marianne
, another story told as a series of letters, which would eventually be published as
Sense and Sensibility
.
From
http://www.biography.com/people/jane-austen-9192819