Acrophobiacs beware… China's newest bridge isn't for the faint of heart.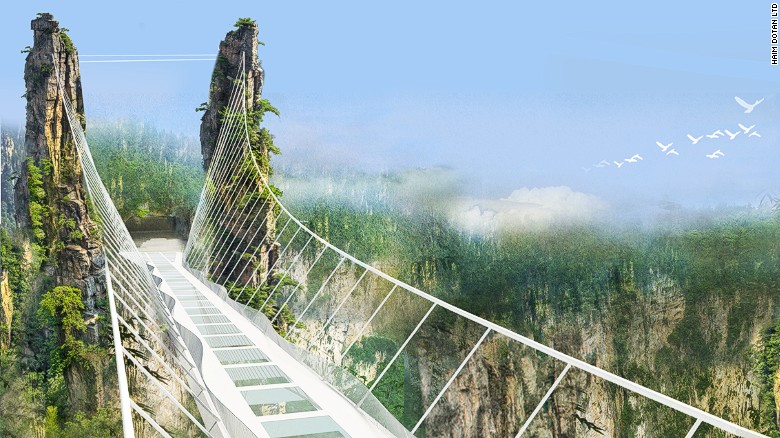 An angled view
Stretching 380m across a section of Zhangjiajie's

Grand Canyon

, the new pedestrian bridge will have a completely glass floor. Visitors who dare venture forth can see the full 300m drop to the canyon's bottom below. Construction is expected to be complete in July, and the bridge will open to visitors in October.
This isn't the region's first towering glass floor – a

glass skywalk

hugs the cliff of

Tianmen Mountain

– but the Grand Canyon instalment is expected to be the longest and tallest glass-bottomed bridge in the world. Outside of setting records, the glass architecture is meant to minimise any disruption to the surrounding scenery.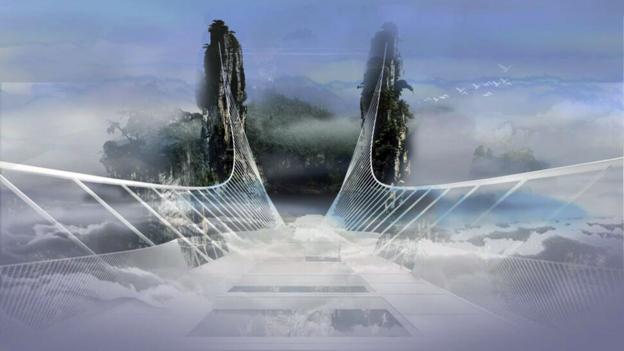 Walking down the glass-bottomed bridge
"I believe in nature, harmony, balance and beauty. Nature is beautiful as is," said Haim Dotan, the Tel Aviv-based architect who designed the bridge's concept. "The Zhangjiajie Glass Bridge was designed to be invisible as possible – a white bridge disappearing into the clouds."
With a suspension constructed only of two side steel beams, banisters with side-hanging stay cables and a glass deck, the bridge may look minimal – but it can withstand high winds, earthquakes, frost and the weight of 800 visitors at a time.