The Duke and Duchess of Cambridge have named their daughter Charlotte Elizabeth Diana, Kensington Palace has said.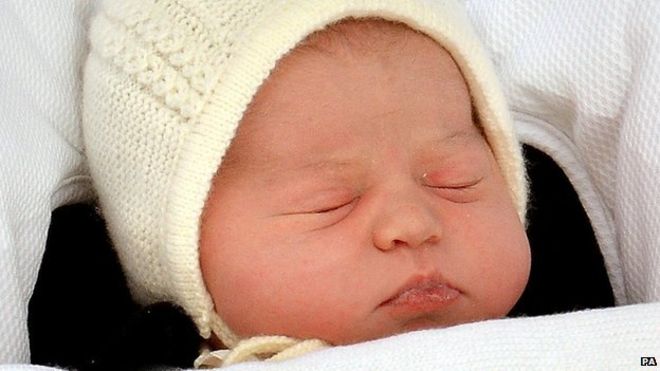 The princess follows a long line of royals named Charlotte
The fourth in line to the throne will be known as Her Royal Highness Princess Charlotte of Cambridge.
She was born on Saturday in the Lindo Wing of London's St Mary's Hospital weighing 8lbs 3oz (3.7kg).
The Queen and other senior royals were told of the baby's name before the announcement was made public.
The BBC's royal correspondent Peter Hunt said that a Kensington Palace official, when asked about the couple's choice of name, said: "We'll let the names speak for themselves."
Why Charlotte?
Charlotte, the feminine form of Charles, has a long royal pedigree and became popular in the 18th century when it was the name of George III's queen.
The King bought Buckingham House in 1761 for his wife Queen Charlotte to use as a family home close to St James's Palace - it became known as the Queen's House and is now Buckingham Palace.
Charles is the name of two former Kings and of the Prince of Wales, the princess's grandfather.
Charlotte also has more recent connections for the royal couple. On the duchess's side, it is the middle name of her sister Pippa Middleton and on the duke's it is the name of his cousin Charlotte Spencer, Earl Spencer's youngest daughter.
The earl tweeted: "Perfect names. My 2-year old Charlotte Diana will be thrilled at cousinly name-sharing."
Elizabeth is 39th in the list but Diana is not in the top 100.
Royal historian Hugo Vickers said the choice of Charlotte as a name seemed to be based on taste rather than history.
"I don't think she is burdened by any history associated with it and to be honest I think they just chose the name because they liked it, which is what they do and what we respect about them.
"We historians can always find someone called Charlotte but I think basically they just liked the name."
Historian Dr Judith Rowbotham of the University of Plymouth said: "None of the Charlottes in the history of the British royal family have been lacking in character and personality, so one hopes that this one lives up to that name."