100 years ago this Christmas, a special event took place during World War One.
It became known as the Christmas Truce.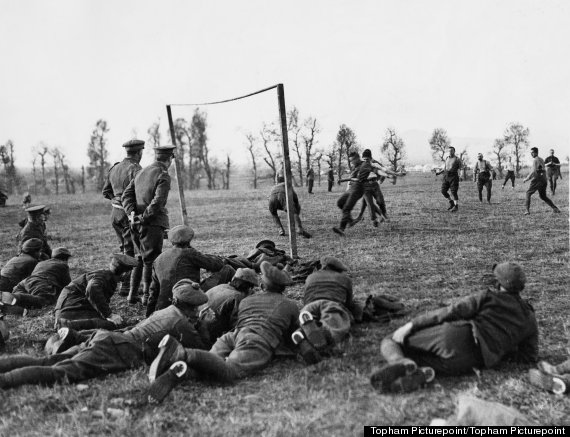 On Christmas day in 1914, British and German soldiers who were fighting against each other in the war, laid down their weapons and sang carols, shared food and played a football match together.
A century later, many people all over the world have come together to mark the occasion in different ways.
On Wednesday night, soldiers from Britain and Germany have joined forces to recreate the Christmas Truce in a friendly football match.
L
ast week, the Duke of Cambridge and England football manager Roy Hodgson helped to unveil a new monument, designed by a schoolboy, to remember the Christmas Truce.
Uefa

has marked the 100-year anniversary of the Christmas Day Truce 1914 football match with a memorial, created by Designwerk.
Unveiled in a ceremony in a village near Ypres in
, the memorial was revealed by federation president Michel Platini, accompanied by royalty and dignitaries from both the UK and Germany.
The memorial was based on the look of an old exploded shell dug up from the actual site of the football match.
Produced by sculpture company MDM, the monument is made from steel with a rust effect, at the top of which is a replica of a period leather football.
Platini said: "This remembrance ceremony pays homage to the soldiers who, a century ago, expressed their humanity by coming together to play football, thereby opening an important chapter in the construction of European unity and serving as an example for today's young people to follow."
The memorial sculpture sits on a stone platform with two cracks extending from its base, which turn gradually into representations of two war trenches.
From CBBCnewsround and The drum
http://www.thedrum.com/news/2014/12/11/uefa-unveils-special-memorial-christmas-day-truce-1914-football-match