Mount Mabu rainforest teeming with new and unique
species including pygmy chameleons and bronze-colour
snakes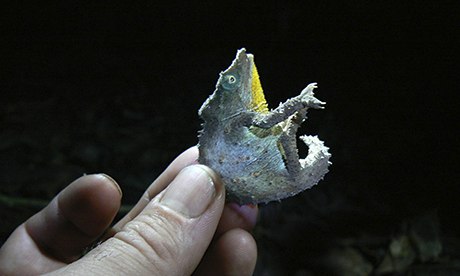 This pygmy chameleon is one of many such unique and new species discovered in the Mount Mabu forest of Mozambique. Photograph: Kew Gardens/Julian Bayliss
A remote rainforest in Mozambique discovered using Google Earth has so many new and unique species that it should be declared a protected area, scientists say.
Pygmy chameleons, a bronzed bush viper and butterflies with shimmering yellow wings are among the species in the forests covering Mount Mabu in northern Mozambique.
Papilio ophidicephalus - the Emperor swallowtail butterfly
One such species is a golden-eyed bush viper with bronze-edged scales (
Atheris mabuensis
) which
Julian Bayliss
, a
conservation
scientist for Kew Gardens, found by stepping on during a survey. His team is also waiting to describe a further two species of snake.
A new species of chameleon (
Nadzikambia baylissi
) has already been described from the site, and the researchers are also describing another. The size of a human palm, with a warm yellow chest, green eyes and a spiky crest along its back,
Rhampholeon sp.
are commonly known as pygmy chameleons.
the golden-eyed bush viper
From the Guardian
A weird beatle found in Mount Mabu