Babies who are born on the same day as the royal baby will get a special coin.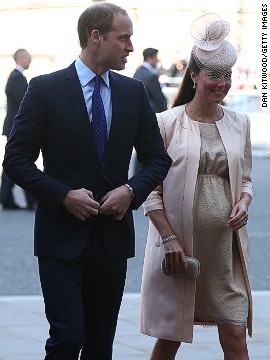 The Duke and Duchess of Cambridge's first child is due later this month and the Royal Mint has announced it is making a keepsake for babies which share its birthday.
The silver penny will be dated 2013 and come in a blue pouch for a boy or a pink one for a girl.
Parents can register to get one of the silver coins for their child.
Thanks to a change in the ancient laws of succession, their child will be next in line to the British throne after William and his father, Prince Charles, regardless of its gender.
To claim the silver coin, UK parents whose baby's birth coincides with that of the royal baby will have to register through the Royal Mint's Facebook page and upload a scanned copy of the birth certificate within 60 days.
It is making 2,013 of the coins available.
The Royal Mint says the gesture reflects the tradition of marking a new birth with a gift of silver for good luck.
According to sources familiar with the plans, Catherine will give birth in the private Lindo Wing of St. Mary's Hospital in Paddington, west London, where William was also born.
"The birth of the royal baby will be a joyous occasion not just for Their Royal Highnesses The Duke and Duchess of Cambridge but also for the whole nation," said Shane Bissett, director of commemorative coin at the Royal Mint.
From CBBC News/ CNN