A 10-year-old artist from Norfolk has made an estimated £1.5 million from his paintings over five years!
Kieron is the real prodigy a true genious!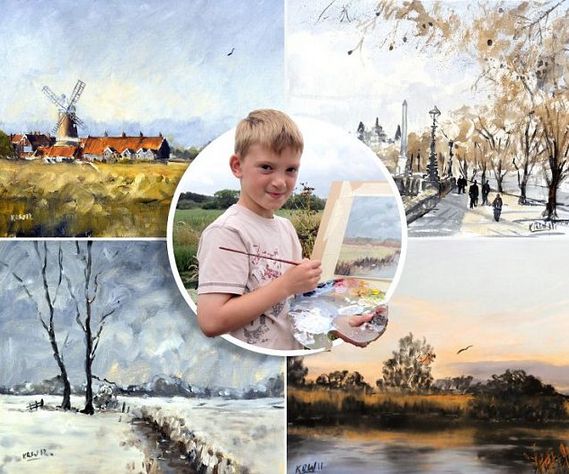 Kieron Williamson first became known aged seven when his first exhibition sold out within minutes for £150,000.
He does oil paintings of landscapes, which started when he asked his parents for a drawing pad while on a family holiday to the Cornish coast in 2008.
Kieron's even been nicknamed "mini Monet" - after the famous French artist Claude Monet.
An exhibition of Kieron's new work opens in Norfolk on Friday.
Kieron Williamson was a typical energetic toddler. He loved playing in the mud, investigating bugs, finding sticks and generally exploring the outdoors. Kieron's parents, Michelle and Keith, have always been proud of him, as despite being quiet and reserved at school, he was always studious, achieving good grades and great comments in all of his subjects. His love of the outdoors extended to sports and Michelle and Keith were equally proud of him on school sports days.
Kieron first began drawing independently on the Williamson's first family holiday to Cornwall, England in May 2008. At the age of 5, Kieron had shown little interest in drawing up to that point in his life, but, inspired by the boats in a nearby port, Kieron asked his parents for a sketch pad. The very next day he was drawing pictures of boats and as the holiday progressed he began to add backgrounds, scenery, hills and houses.
As time progressed, so did Kieron's abilities.
Twenty-three of his works were snapped up for £242,000 in just 20 minutes by telephone and internet buyers at a sale on Friday.
The paintings sold for between £2,450 for a small watercolour to £30,000 for a winter snow scene near his home in Norfolk.
Kieron's work first came on the market in 2009, when 19 of his paintings were sold for £14,000 in a sealed bid auction.
The earnings have allowed Kieron to buy a new house for his parents Keith and Michelle Williamson and also to invest in works by other artists such as English landscape painter L.S. Lowry.
Mr Williamson, 47, an art dealer, said: 'Everyone in the art world reckons that his work has gone up a load of notches in the last year. Some of the bits and pieces he has done lately are just phenomenal.
'We don't put any pressure on him. He just paints when he wants to.
'
Adrian Hill, the gallery manager who oversaw the sale, said: 'Kieron's paintings continue to be overwhelming and quite incredible.
'I have seen him evolve and there has been a measured improvement in his work over the last year. He now seems to have elevated himself to another level.'
Kieron will be home-tutored from next year so he can focus on painting. Another dozen of his oil paintings and watercolours will be sold this Friday and are set to go for £100,000.
From MailOnline
http://www.dailymail.co.uk/news/article-2366724/Kieron-Williamson-10-dubbed-Mini-Monet-sees-earnings-soar-1-5m-latest-23-works-sell-250K.html?ITO=1490&ns_mchannel=rss&ns_campaign=1490